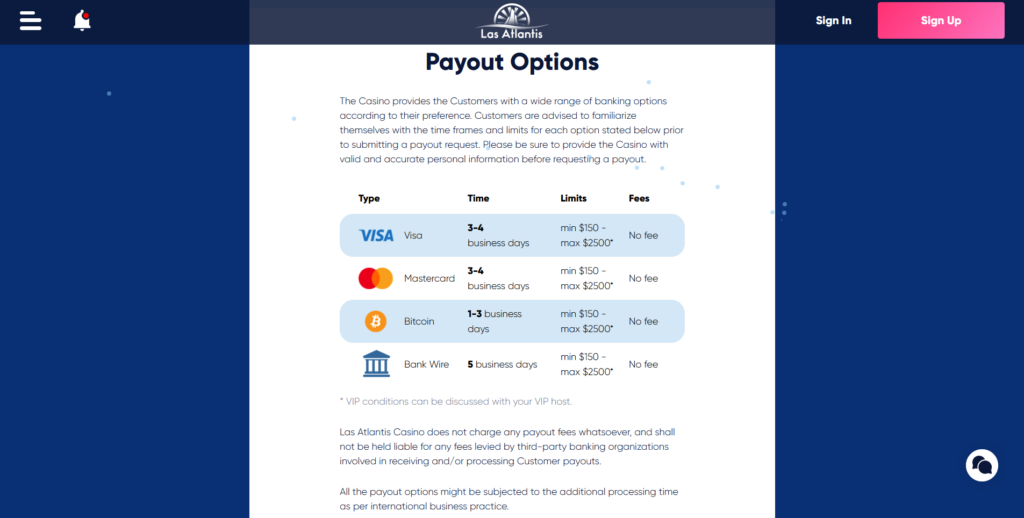 Las Atlantis Casino payout is one of the most important things to know before you start gambling on this platform. Ideally, you want to know how to withdraw the money you win after playing your favorite casino games. Players can withdraw their funds right after the gaming session or later when it is convenient. Funds on the account balance will be available for use next time when a player logs into their account.
How to Make a Withdrawal
Withdrawing money from Las Atlantis Casino is easy. Just navigate to the Cashier section on the Las Atlantis Casino site or software and click on the "Payout" button. You will be prompted to enter the amount to withdraw. Provide an amount, and your withdrawal will be recorded. The system will reflect your withdrawal amount immediately.
Please note that you have to comply with some security measures if you attempt to withdraw a large amount during the first withdrawal. For instance, you can be required to provide your Las Atlantis Casino payout verification email. What's more, you can make a withdrawal reversal request within 24 hours of your first withdrawal. If the casino denies your withdrawal for something like insufficient funds or any other reason, you will be notified within 24 business hours. Players are not charged any fee for withdrawals.
Las Atlantis Withdrawal Times
The time taken to complete a Las Atlantis Casino withdrawal transaction depends on your chosen payment method. For instance, Bitcoin withdrawals take between 24 and 72 hours. Bank Wire transfer can take up to 5 business days. Visa and MasterCard payout are processed within 3-4 business days.

How to Make a Withdrawal from the Desktop Site
Withdrawing money from the Las Atlantis Casino desktop site is easy. Just log into your account and then navigate to the Cashier section. Click the "Payout" button and then enter the amount you wish to cash out. As hinted, the duration taken to complete your desktop site withdrawal will depend on your chosen payment method.
How to Make a Withdrawal from the Mobile Site
The mobile site of this casino is a web-based app that allows gamblers to play their favorite games using devices like smartphones and tablets. With this website, you can use an Android, iOS, or Windows mobile device to visit the official site of this casino and play any casino game.
All features available on the desktop site are also available on the mobile site of this casino. Thus, withdrawing money from your Las Atlantis Casino account from a mobile site is as easy as doing it from a desktop site. Simply navigate to the Cashier section and click the "Payout" button. Enter the amount to withdraw and then proceed. Your preferred payment method will determine the time your withdrawal transaction will take.
How to Reverse/Cancel a Withdrawal
To reverse or cancel your Las Atlantis Casino withdrawal, submit a request within 24 hours of your initial withdrawal. This will prompt our system to stop the transaction and initiate the reversal process. Once you initiate the reversal, the amount you had tried to withdraw will eventually reflect on your balance.
Las Atlantis Customer Service Evaluation
A reliable, effective, and efficient customer service is one of the major Las Atlantis Casino validation factors. If you encounter challenges when trying to withdraw money from your account, contact customer support for assistance. Las Atlantis Casino support service is available 24/7 via toll-free phone line, live chat, and email.
Overall, multiple reputable resources have written positive Las Atlantis Casino payout reviews. That means this casino is a reliable gambling platform where you can play your favorite game, win, and withdraw real money.